Battle of the Bridges: Traditional vs. Implant-supported Dental Bridge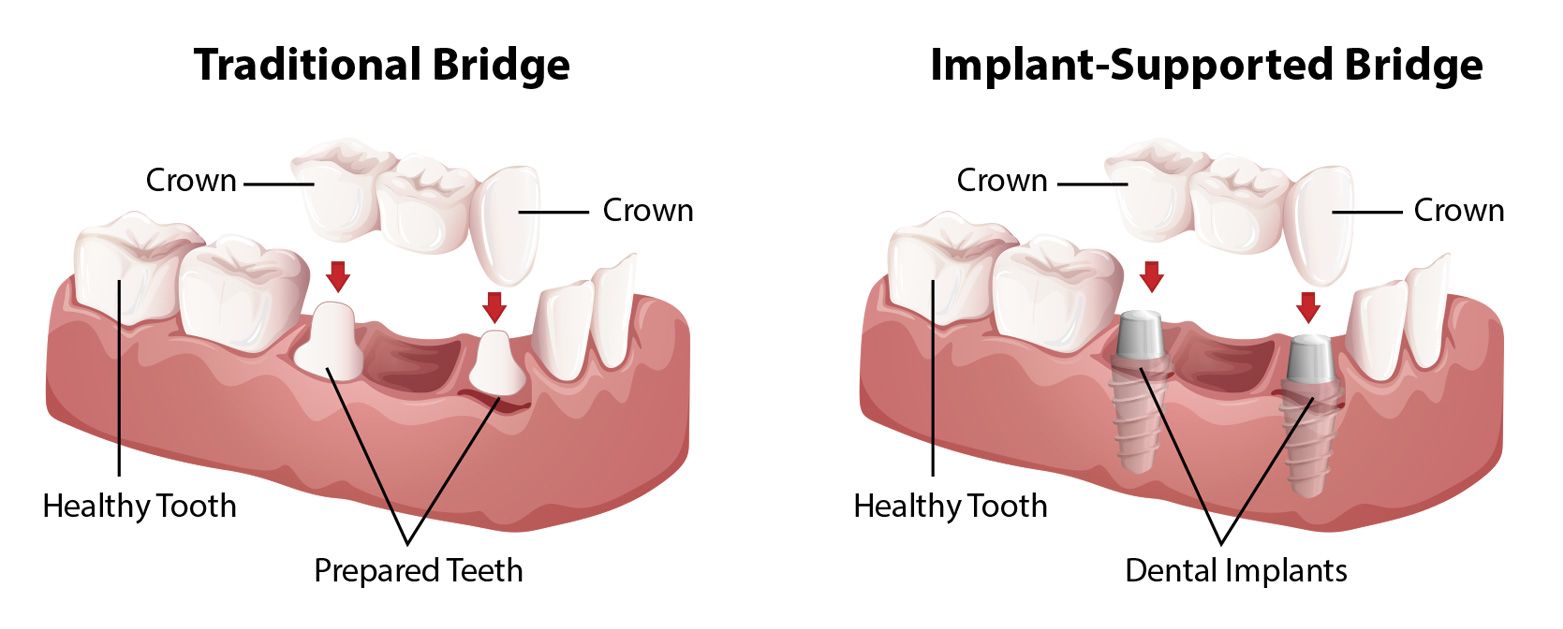 Dental bridges have long been among the most important and versatile treatments in all of dentistry. For patients who are missing one or more of their natural teeth, dental bridges offer an opportunity to restore form, function, and health to their mouths. Patients emerge with not only their smiles intact once again, but also their bites and their ability to speak and chew comfortably.
At Silvers Family Dental Care, we have been providing our patients with the finest in dental services for more than four decades. In this spirit, we are pleased to offer both traditional fixed dental bridges of the highest quality as well as state-of-the-art implant-supported dental bridges. Both of these treatments are extremely effective and offer a wealth of benefits, ranging from the aesthetic to the practical.
In discussing the issue of traditional vs. implant-supported dental bridges during consultations at their Harrisburg, PA cosmetic, restorative, and general dentistry practice, Drs. Warren D. Silvers, III, and Daniel G. Laux help patients decide which treatment option is best suited to their unique needs and goals.
Which type of dental bridge is right for you - a traditional bridge or an implant-supported bridge? To find out, we invite you to schedule your initial consultation with Dr. Silvers or Dr. Laux at Silvers Family Dental Care today.
Traditional Dental Bridges
Traditional dental bridges, also known as fixed dental bridges, are composed of between one and three replacement teeth that are custom crafted to blend seamlessly into the smile. These teeth are connected to two dental crowns. Depending on where the crown is to be placed in the mouth, these dental crowns may be located one on each side of the replacement teeth or both on one side of the replacement teeth. When the crowns are attached to the teeth adjacent to the gap once occupied by the now-missing natural teeth, the replacement teeth will fill the gap, making the smile whole once again.
Traditional fixed dental bridges offer several benefits:
By filling the gap between natural teeth, a bridge prevents those teeth from shifting out of their optimal positions toward the gap, which would result in bite problems.
Our dentists created their bridges from the highest-quality porcelain and other materials to ensure the most natural appearance possible.
Our traditional fixed bridges are strong and durable. With proper oral hygiene and regular visits to our practice, they can last ten years or longer.
The only noteworthy disadvantage to traditional fixed dental bridges is that they use healthy natural teeth for support. These natural teeth must be filed in order to accommodate the dental crowns that anchor the bridge.
Implant-supported Dental Bridges
On the other hand, implant-supported dental bridges do not require the support of natural teeth. Instead, they are supported by dental implants, tiny titanium posts that are surgically embedded in the jawbone, where they act as artificial tooth roots. Over a period of about four to six months, these titanium posts fuse with the jaw, essentially becoming part of the patient's natural anatomy.
Implant-supported dental bridges provide the same benefits as traditional dental bridges, in addition to:
Halting the gum and bone degradation that occurs when teeth are loss, since the body cannot distinguish between titanium implants and natural tooth roots.
Providing years of use, with the dental implants themselves potentially lasting for decades and possibly a lifetime.
Fully restoring the ability to chew, bite, speak, and smile with ease and confidence.
Learn More about Traditional vs. Implant-supported Dental Bridges
To learn more about traditional dental bridges vs. implant-supported dental bridges, please contact Silvers Family Dental Care today.
Related to This